BS Yediyurappa feels heat in Belagavi, then savours central relief – The Times Of India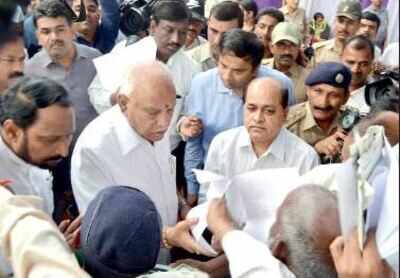 BELAGAVI: For most of Friday, chief minister BS Yediyurappa was squarely in the eye of a storm over compensation and assistance to those affected during his tour of flood-ravaged North Karnataka, but was eventually a relieved man when the Centre came through with an interim relief package of Rs 1,200 crore.
Yediyurappa faced protests from people and was confronted by groups of angry locals in Belagavi and Bagalkot districts, who complained of delays in relief operations. Yediyurappa, who was touring the districts to take stock of relief and rehabilitation work, even lost his cool with journalists and protesters. At one point, miffed with questions on whether the Centre had rejected the state government's relief plea, Yediyurappa shot back at journalists in Belagavi, "Who feeds you all this? They [Centre] have just sought some clarifications and I am confident they will release funds in a couple of days." As it turned out it was only a matter of hours before the central funds came through.
But it was a hectic day for the CM. News channels showed angry locals complaining that the administration had failed  to provide food and water to stranded people and rescue teams were not reaching them. Yediyurappa told them that rescue and relief teams could not get to some parts of the district due to inclement weather. "The government is trying its best. I understand people's anger," Yediyurappa said. Farmer leaders Jayashri Gurannavar and Chunappa Pujari led a group that shouted slogans against Yediyurappa  and the central government for delaying compensation for crops lost in the flood. Police took them into custody when they tried to block the CM's convoy outside Circuit House.
Gurannavar labelled the CM's visit "a drama" and said Yediyurappa should not indulge in "pointless exercises" of visiting flood-affected regions since the government was anyway not extending compensation. In Chikkodi, Yediyurappa faced the ire of protesters demanding separate district status. Activists led by BR Sangappagol met the CM  and urged him to consider making Chikkodi a separate districct. The CM also faced protests in Mudhol town from sugarcane growers over delay in compensation.
On the advice of officials, Yediyurappa reportedly cancelled a visit to Jamkhandi taluk, fearing more protests. People of Jamkhandi had observed a bandh on Thursday to demand district status.
Disqualified MLA lambasted
Disqualified MLA of Kagawad assembly constituency Shrimant Patil shared the dais with chief minister BS Yediyurappa in Darur village and was gheraoed by farmers after the programme. "You left the constituency, why did you return now?" they asked. "We trusted you and elected you, but what did you do? You deceived us all. What gall you have to return here?" Farmers also accused him of defaulting on payments from his sugar factory.